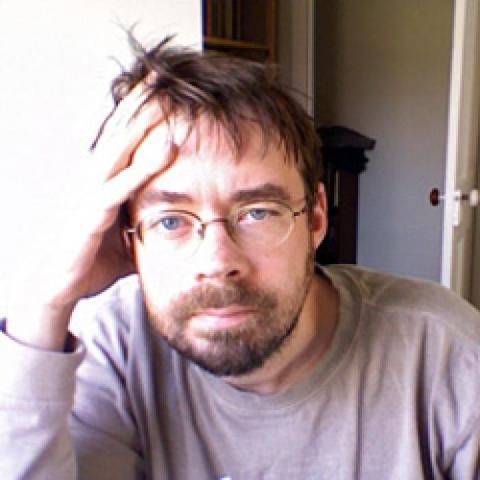 Gregory Hays
Associate Professor of Classics
Associate Professor of Classics. His research centers on late and medieval Latin, as well as on Latin palaeography and manuscript studies. His publications include a translation of Marcus Aurelius's Meditations (Modern Library, 2002) and numerous articles on various aspects of Greek and Latin literature. He is currently finishing a new edition with commentary on the late antique North African mythographer Fulgentius. 
Research Interests
My research centers on medieval Latin literature and on Latin palaeography and manuscript studies. I am currently finishing an edition with commentary of the works of the sixth century allegorist Fulgentius (forthcoming from Oxford University Press). I'm also working on a short book about the history of Latin manuscripts from 1500 to the present. Other topics that I have an interest in include Latin palaeography and textual criticism, the ancient reception of Vergil, and Greek lyric poetry (especially its influence in modern literature).
Selected Publications
"Sounds from a Silent Land: the Latin Poetry of Byzantine North Africa," in S.T. Stephens and J. Conant, ed., North Africa under Byzantium and Early Islam (Washington, D.C.: Dumbarton Oaks, 2016), 269-293.
"Notes on John of Garland's Epithalamium Beatae Virginis Mariae," Journal of Medieval Latin 24 (2014), 53-88.
"A Poem by Guarino on Leonello of Ferrara," Traditio 69 (2014), 147-151.
"The Mythographic Tradition after Ovid," in J.F. Miller and C.E. Newlands, eds., A Handbook to the Reception of Ovid (Chichester: Wiley Blackwell, 2014), 129-143.
"Fulgentius the Mythographer?" in S.M. Trzaskoma and R.S. Smith, eds., Writing Myth: Mythography in the Ancient World (Leuven: Peeters, 2013), 309-333.
"Ancient Classics," in K. Hayes, ed. Edgar Allan Poe in Context (Cambridge: Cambridge University Press, 2012), 221-231.
"Prose Style," in R.J. Hexter and D. Townsend, ed. The Oxford Handbook of Medieval Latin (New York: Oxford University Press, 2012), 217-238.
"John of Garland's Clauis Compendii. Notes and Explications," Journal of Medieval Latin 21 (2011), 53-136.
"Fulgentius of Ruspe and his Medieval Readers," in Antonio Piras, ed. Lingua et Ingenium. Studi su Fulgenzio di Ruspe e il suo contesto (Cagliari, 2010), 105-145.
"Notes on the Glosarium Ainardi," Filologia Mediolatina 15 (2008), 269-281.
"Did Chrétien de Troyes Know Hyginus's Fabulae?" Romance Philology 62 (2008), 75-81.
"Further Notes on Fulgentius," Harvard Studies in Classical Philology 103 (2007), 483-498.
"Flumen orationis" in G.R. Wieland, C. Ruff and R.G. Arthur, eds. Insignis sophiae arcator. Medieval Latin Studies in Honour of Michael Herren on his 65th Birthday (Turnhout: Brepols, 2006), 1-27
"'Romuleis Libicisque litteris': Fulgentius and the 'Vandal Renaissance'" in A. Merrills, ed. Vandals, Romans and Berbers: New Perspectives on Late Antique Africa (Aldershot: Ashgate, 2004), 101-132
"The Date and Identity of the Mythographer Fulgentius," Journal of Medieval Latin 13, 2003, 163-252
Marcus Aurelius, Meditations. Translated with an introduction and notes (Random House, 2002)
"The Pseudo-Fulgentian Super Thebaiden," in Vertis in Usum: Studies in Honor of Edward Courtney (Munich and Leipzig, 2002), 200-219
"Three Passages in Fulgentius," Eranos 99 (2001),100-102.
"Tales out of School: Grammatical Culture in Fulgentius the Mythographer" forthcoming in Carol Lanham, ed. Latin Grammar and Rhetoric: Classical Theory and Medieval Practice.
"A Second Look at Fulgentius's Alexander," Vigiliae Christianae 54 (2000), 204-207
"Jean Gerson" in D. Sinnreich-Levi, ed., Dictionary of Literary Biography: The French and Occitan Middle Ages (Detroit, 1999), 129-140
"Varia Fulgentiana," Illinois Classical Studies 23 (1998), 127-137
"A Note on Juvencus 4. 286," Classical Quarterly n.s. 48 (1998), 599-600.
"Le morte stagioni: Intertextuality in Quasimodo's Lirici Greci," Forum Italicum 29 (1995), 26-43
Lexicographical articles for the Thesaurus linguae Latinae
Various book reviews including Ellen Greene, ed. Reading Sappho, E. Wolff, ed. Dracontius. Oeuvres IV , A. Bierl, Die Orestie des Aischylos auf der modernen Bühne, and Stephen Harrison, Apuleius. A Latin Sophist.
Personal
I'm originally from Indianapolis, and grew up there and abroad. I majored in Greek at Yale, and then went on to do doctoral work in Classics at Cornell. After finishing my PhD, I spent a year in Munich as a post-doctoral fellow at the Thesaurus Linguae Latinae. I taught for two years at the University of Illinois before moving to UVA, where I've taught since 1999. For more information, please visit my home page.